Info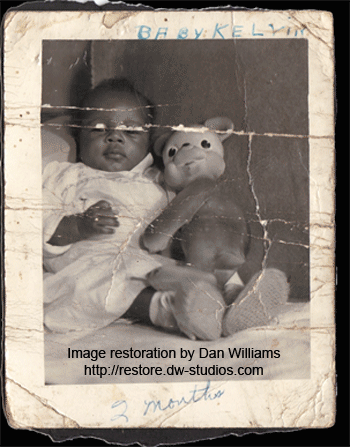 I have worked as a freelance artist for many years creating graphics for print, video and the Web. My main area of focus has always been image creation and manipulation using Adobe Photoshop. I hold certification on two different versions of Photoshop from Adobe, (ACE – Adobe Certified Expert).
One of my favorite activities has been restoring old photographs. It is always fun to see people's reaction when they see their old photos brought back to life. I also retouch photos to enhance, correct color or remove blemishes and other things from images.
Not every photo can always be restored or fixed, obviously some may be too far gone or damaged to help but I have restored some pretty damaged photos as you can see from my gallery.
---
The Process
If you have an image that you would like restored or retouched contact me and we can discuss your needs. It will be necessary for me to see the image so that I can determine if the image can be restored or not. Generally we would proceed by getting your scanned image to me. (If you need help with scanning let me know.) We can do this via email, upload to Dropbox or Google Drive or the original can be shipped to me by USPS or some other carrier like UPS. If you are close by this can be done in person as well.
---
Price
Service fees are generally $35 to $45 per image, not including shipping or postage fees that may be necessary. Price will be based on the difficulty and time required for your project. I will however give you a quote up front and that will be the price, so there are no surprises, regardless of whether it takes me a little extra time to finish the work. Please contact me so that we might discuss your needs.